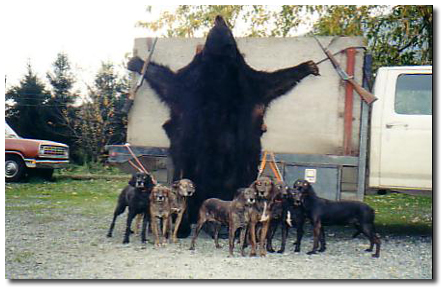 Our Mission Statement
The Virginia Hunting Dog Alliance is working to secure, for posterity, the heritage of hunting with dogs in the Commonwealth of Virginia and to promote and advance the opportunities to use dogs for hunting through aggressive educational programs and political action. Educational programs will promote hunting with dogs to the general public, the sportsmen's community and elected officials. Political action may include all state and local offices (excluding Federal elections, but may include issues at the Federal level) and will include lobbying the members of the Virginia General Assembly in support of the right to hunt with dogs.
The VaHDA
The Virginia Hunting Dog Alliance is a Committee of autonomous organizations and individuals working in conjunction with each other under the umbrella of the Commonwealth Sportsmen's Alliance, Inc., a Virginia Political Action Committee.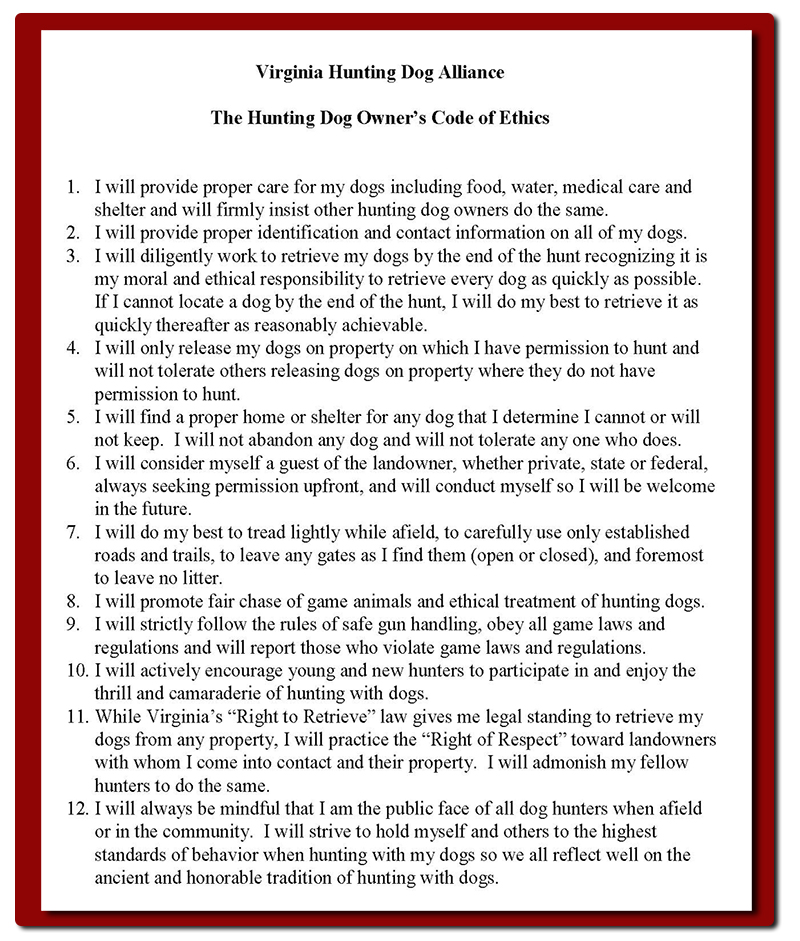 VIRGINIA HUNTING DOG ALLIANCE - Represents Virginia Hunters and Dog Owners
• At the Virginia General Assembly

• With the Department of Game & Inland Fisheries

• Before Local County Government

-Animal Control – Dog Ordinances
-Zoning – Kennel licenses
-County Hunting and Gun Laws

• With expert testimony assisting in selected
Hunting and Dog law cases

• Promotes Ethical Hunting and Dog Ownership

Virginia Hunting Dog Alliance - Board of Directors
Kirby Burch, Vice Chairman - Powhatan Co.
Chuck Ellsworth, Secretary - Cumberland Co.
Wade McClintock, Treasurer - Chesterfield Co.
Dennis Smith, Board Member - King William Co.
Cliff Trammell, Board Member - Pittsylvania Co.
David Steger, Board Member - Craig Co.
Steve Winder, Board Member – Essex Co.
Ronny Wilson, Board Member - Gloucester Co.
Reg Cook, Board Member - Mecklenburg Co.
John Morse, Board Member - Chesapeake
Bryan Morris DVM, Board Member - Charlotte Co
Matthew Bolton, Board Member - Charlotte Co.
Chuck Clay, Board Member - Charlotte Co.
Jay Christian, Board Member - Augusta Co.
Jimmy Connelly, - Board Member - Dinwiddie Co.
Robert Bishop, Board Member - Powhatan Co
David Irvin, Board Member – Chesterfield Co.
Joe Miller, Board Member – Sussex Co.
Jerry Brumfield – Pittsylvania County
Carter Garnett – King William Co.


Virginia County Chapters
County Chapters serve as the first line of Defense and are the basis of grassroots action. The Chapters and their Chairman are listed below.

ALBEMARLE – WAYNE PROFFITT
AMELIA – CHRIS SOLON
BRUNSWICK – JIMMY JONES
BUCKINGHAM / GOOCHLAND – DENNIS "BOOGY" DAVIS
NEW KENT AND CHARLES CITY – CURTIS PEACE (CHICKAHOMINY)
CAROLINE – JOSH WATTS
CHARLOTTE & LUNENBURG – BRYAN MORRIS (U.E.V.H.A.)
CUMBERLAND – KEVIN MEADOWS
DINWIDDIE – JIMMY CONNELLY
ESSEX – DWAYNE DAVIS
GLOUCESTER – RONNY WILSON
ISLE OF WIGHT, SUFFOLK, CHESAPEAKE, VIRGINIA BEACH, SURRY, EAST SUSSEX – MIKE COBB (QUAD COUNTY HOUNDSMEN ASSOCIATION)
KING & QUEEN –DENNY ALEXANDER
KING WILLIAM – DENNIS SMITH
KING GEORGE – ROB JETT
MECKLENBURG – REG COOK
PITTSYLVANIA – CLIFF TRAMMEL
RICHMOND COUNTY – BRIAN MOTHERSHEAD
SPOTSYLVANIA – STEVE BENNETT
More Chapters are planned in the near future. To find out how to start a Chapter in your area contact info@vahda. org


To get a price on a Garmin Astro 320, other Garmin, or Tri-tronics product phone, click here...